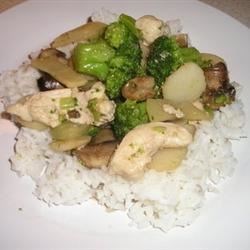 MOO GOO GAI PAN
Ingredients
* 1 tablespoon vegetable oil
* 1 cup sliced fresh mushrooms
* 2 cups chopped broccoli florets
* 1 (8 ounce) can sliced bamboo shoots, drained
* 1 (8 ounce) can sliced water chestnuts, drained
* 1 (15 ounce) can whole straw mushrooms, drained
* 1 tablespoon vegetable oil
* 2 cloves garlic, minced
* 1 pound skinless, boneless chicken breast, cut into strips
* 1 tablespoon cornstarch
* 1 tablespoon white sugar
* 1 tablespoon soy sauce
* 1 tablespoon oyster sauce
* 1 tablespoon rice wine
* 1/4 cup chicken broth
Directions
1. Heat 1 tablespoon of vegetable oil in a wok or large skillet over high heat until it begins to smoke. Stir in the fresh mushrooms, broccoli, bamboo shoots, water chestnuts, and straw mushrooms. Cook and stir until all the vegetables are hot, and the broccoli is tender, about 5 minutes. Remove from the wok, and set aside. Wipe out the wok.
2. Heat the remaining tablespoon of vegetable in the wok until it begins to smoke. Stir in the garlic, and cook for a few seconds until it turns golden-brown. Add the chicken, and cook until the chicken has lightly browned on the edges, and is no longer pink in the center, about 5 minutes. Stir together the cornstarch, sugar, soy sauce, oyster sauce, rice wine, and chicken broth in a small bowl. Pour over the chicken, and bring to a boil, stirring constantly. Boil for about 30 seconds until the sauce thickens and is no longer cloudy. Return the vegetables to the wok, and toss with the sauce.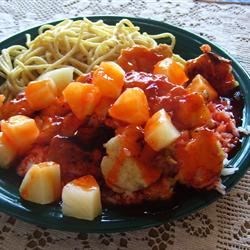 SWEET AND SOUR CHICKEN
Ingredients
* 1 (8 ounce) can pineapple chunks, drained
* 2 green bell pepper, cut into 1 inch pieces
* 1/4 cup cornstarch
* 1 3/4 cups water
* 3/4 cup white sugar
* 1/2 cup distilled white vinegar
* 2 drops orange food color
* 8 skinless, boneless chicken breast halves - cut into 1 inch cubes
* 2 1/4 cups self-rising flour
* 2 tablespoons vegetable oil
* 2 tablespoons cornstarch
* 1/2 teaspoon salt
* 1/4 teaspoon ground white pepper
* 1 egg
* 2 cups water
* 1 quart vegetable oil for frying
Directions
1. In a saucepan, combine 1 1/2 cups water, sugar, vinegar, reserved pineapple syrup, and orange food coloring. Heat to boiling. Turn off heat. Combine 1/4 cup cornstarch and 1/4 cup water; slowly stir into saucepan. Continue stirring until mixture thickens.
2. Combine flour, 2 tablespoons oil, 2 tablespoons cornstarch, salt, white pepper, and egg. Add 1 1/2 cups water gradually to make a thick batter. Stir to blend thoroughly. Add chicken pieces, and stir until chicken is well coated.
3. Heat oil in skillet or wok to 360 degrees F (180 degrees C). Fry chicken pieces in hot oil until golden. Remove chicken, and drain on paper towels.
4. When ready to serve, layer green peppers, pineapple chunks, and cooked chicken pieces on a platter. Pour hot sweet and sour sauce over top.
CHILES RELLENOS
Ingredients
* 6 Ancho, Pasilla or Anaheim Chiles - or - 27 oz. can Poblano Peppers or Mild Whole Green Chiles
* 1/2 pound Monterey Jack cheese, thinly sliced
* 1/4 cup Flour
* 6 Raw eggs (separated)
* 1/2 cup Flour
* 2 cups salsa verde
* 2 cups Homestyle Mexican Salsa
* 1 cup Corn oil
Directions
1. Rinse the chiles.
2. Preheat your oven to broil.
3. Place the chiles in a 9 x 14 baking dish and place on the top shelf of your oven.
4. Watch and listen closely. When the skins start to make popping sounds and to char and turn black in places, take the chiles out and flip them over. Be sure and use a potholder so you don't burn your hands!
5. When both sides are fairly evenly charred, remove them from the oven.
6. Wrap each chile in a moist paper towel or place in a sealed plastic bag to steam.
7. After a few minutes, check them. Once the skin comes off easily, peel each chile.
8. Cut a slit almost the full length of each chile. Make a small "t" across the top, by the stem. Pull out fibers and seeds (this is where the heat is) and replace with a slice of cheese. You can set these aside, for a few minutes or a few hours if you put them in the refrigerator.
9. Whip the egg whites at high speed with an electric mixer, until stiff peaks have formed.
10. Heat the oil in a skillet until a drop of water sizzles when dropped into the pan.
11. Beat the egg yolks with one tablespoon flour and salt. Mix the yolks into egg whites and stir until you have a thick paste.
12. Roll the chiles in 1/4 cup flour and dip each one in the egg batter. Coat evenly. Fry, seam side down on both sides until golden brown. Place on paper towels to drain.
13. Meanwhile, heat the salsa in a medium saucepan (either one or some of each). Place one or two Rellenos on each plate and pour salsa over them. Serve them immediately and brace yourself for major compliments!
HUEVOS RANCHEROS
Ingredients
* Olive oil
* 1/2 medium onion, chopped (about a half cup)
* 1 15-ounce can whole tomatoes, preferably fire-roasted, if you can get it (or 1 -2 large fresh vine-ripened tomatoes, when in season)
* 1/2 6-ounce can diced green Anaheim chiles
* Chipotle chili powder, adobo sauce, or ground cumin to taste (optional)
* 4 corn tortillas
* Butter
* 4 fresh eggs
* 2 Tbsp fresh cilantro, chopped (optional)
Directions
1 Make the sauce first by softening the onions in a little olive oil in a large skillet on medium heat. Once translucent, add the tomatoes and the juice the tomatoes are packed in. Break up the tomatoes with your fingers as you put them in the pan. If you are using fresh tomatoes, chop them first, then add. Note that fresh tomatoes will take longer to cook as canned tomatoes are already cooked to begin with. Add chopped green chilies. Add additional chili to taste, either chipotle chili powder, adobo sauce, regular chili powder, or even ground cumin. Bring to a simmer, reduce heat to low, and let simmer while you do the rest of the cooking, stirring occasionally. Reduce to warm after it has been simmering for 10 minutes. Add salt to taste if needed.
2 Prepare the tortillas. Heat the oven to a warm 150°F, place serving plates in the oven to keep warm. Heat a teaspoon of olive oil in a large non-stick skillet on medium high, coating the pan with the oil. One by one (or more if your pan is big enough) heat the tortillas in the pan, a minute or two on each side, until they are heated through, softened, and pockets of air bubble up inside of them. Then remove them and stack them on one of the warming plates in the oven to keep warm while you continue cooking the rest of the tortillas and the eggs.
3 Fry the eggs. Using the same skillet as was used for the tortillas, add a little butter to the pan, about two teaspoons for 4 eggs. Heat the pan on medium high heat. Crack 4 eggs into the skillet and cook for 3 to 4 minutes for runny yolks, more for firmer eggs.
To serve, spoon a little of the sauce onto a warmed plate. Top with a tortilla, then a fried egg. Top with more sauce, sprinkle with cilantro if desired.
Serve either one or two eggs/tortillas per plate, depending on how much you want to eat. I'm a 2-egg 2 tortilla person myself.
Makes 2-4 servings, depending on your appetite.